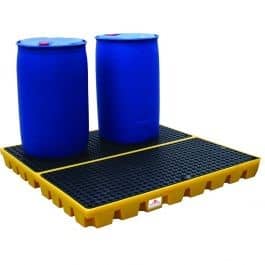 Storage: 4 No. 210L drums, stored vertically, side by side.
Overall Dimensions: (W) 1600mm x (D) 1600mm x 150 mm.
Capacity: Corrosion resistant polyethlene suitable for corrosives, acids and chemicals. Strong removable PE deck.
Maintenance: Easy to clean with water jet or similar, suitable for internal or external use.
Finish: Tough plastic construction will not dent, scrath or rust.